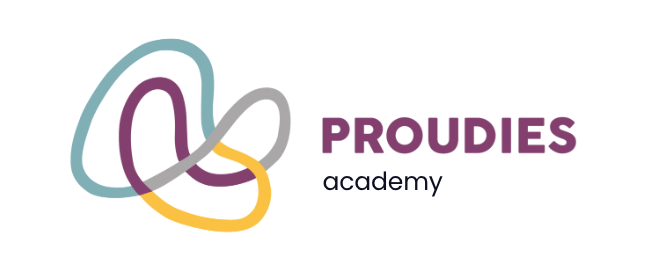 In these Terms of Use, as well as in our
Privacy Statement
which apply to these Terms of Use, the following words, in singular or plural form, starting with a capital letter are defined as follows:
Member: the person who created the Proudies account and who is responsible for the activity that occurs through his/her account.
Proudies: a trade name of the Dutch limited liability company Proudies B.V., having its registered offices at Wilhelminakade 573, 3072 AP Rotterdam and registered with the Amsterdam Chamber of Commerce under company number 82321094.
Proudies Content: all texts, graphics, logos, button icons, images, videos, sounds, music, software, etc. created or licensed by Proudies in order to provide Proudies Services.
Proudies Ready Devices: all devices, such as computers, tablets, mobile devices and other devices that support the Proudies Service.
Proudies Service: the (personalised) service provided by Proudies for participating in workouts, live or pre-recorded, including all features and functionalities, recommendations and reviews, the website, and user interfaces, as well as all content and software associated with our service.
Member Account: any data associated to a personalised account of a Member.
Offer: special promotions, plans or memberships which Proudies might offer from time to time.
Security Data: any data associated to a Member Account and aimed at ensuring the authentication of the person accessing the account, such as, without limitation, a username/login or other type of information or data associated to that Member.
Agreeing to these Terms of Use
By accessing, browsing, downloading, streaming or using Proudies B.V. ("Proudies") software or application ("Proudies Services") for any device included but not limited to personal computer, smartphone, tablet and television, as further described on the Proudies website (www.Proudies.com), you agree to be bound by these Terms of Use as well as the Proudies Privacy Policy. If you do not agree with these Terms of Use, you may not make any use of the Proudies Services. Proudies provides through the Proudies Service a personalised service that allows our Members to access a wide range of workouts ("Proudies Content") streamed over the internet to certain internet-connected devices such as computers, tablets, mobile devices and other devices ("Proudies Ready Devices").
These Terms of Use may be amended by Proudies from time to time and you are therefore invited to review them periodically.
Membership
Your Proudies membership will continue until terminated. To use the Proudies service you must have internet access with a minimum bandwidth as described in paragraph Internet connection/bandwidth and a Proudies Ready Device.
Security Data
You shall keep all Security Data strictly confidential and protect the same against breach, loss, leak or theft or other misappropriation. You shall use the Security Data only for the purposes of accessing your Member Account and using the Proudies Services in accordance with these Terms of Use, and you shall refrain from selling, trading or otherwise transferring or making available your Security Data to any third party. You shall not use any third party's Security Data and shall not let a third party use Your Security Data. You are solely responsible for any and all activity that occurs or data that is transmitted under your account. You shall immediately notify Proudies of any unauthorised use of your Security Data or your account, of any other suspected breach of security you become aware of, including if you believe that your Security Data or your account has been stolen or otherwise compromised.
Intellectual property rights
The Proudies Services and the Proudies Content, including but not limited to texts, graphics, logos, button icons, images, videos, sounds, music and software, is protected by intellectual property rights held by Proudies and/or third parties and may not be copied, reproduced, distributed, posted, downloaded, transmitted or used without the prior consent of Proudies, except (i) as provided under these Terms of Use and (ii) that you can download display and print material solely for your personal use, provided that you do not modify the material in any way and that you keep intact all copyright, trademark and other proprietary notices.
Prohibited use
You must be at least 18 years of age to become a Member of the Proudies Service. Minors may only use the service under the supervision of an adult. You may use the Proudies Services solely for personal use. You may not access, store, distribute or transmit any viruses, or any content during the course of your use of the Proudies Services that: (i) is unlawful, harmful, threatening, defamatory, obscene, infringing, harassing or racially or ethnically offensive; (ii) facilitates illegal activity; (iii) depicts sexually explicit images; (iv) promotes unlawful violence; (v) is discriminatory based on race, gender, colour, religious belief, sexual orientation, disability, or any other illegal activity; or (vi) causes damage or injury to any person or property. You are not allowed to store, record in any way or take pictures of a Proudies workout and will respect the privacy of other Members. Except to the extent permitted by applicable law, you may not (i) attempt to reverse compile, disassemble, reverse engineer or otherwise reduce to human-perceivable form all or any part of the Proudies Services; (ii) access all or part of the Proudies Services in order to develop a product or service which competes with such Proudies Services; (iii) use the Proudies Services in an unreasonable way when no specific usage limitation is provided for. Proudies software is developed by, or for, Proudies and may solely be used for authorised participation in the Proudies Services through Proudies Ready Devices. This software may vary by device and medium, and functionalities and features may also differ between devices. You acknowledge that the use of the Proudies Service may require third party software that is subject to third party licenses. You agree that you may automatically receive updated versions of the Proudies software and related third-party software. Proudies reserves the right to terminate or restrict your use of the Proudies Service if you violate these Terms of Use, are engaged in illegal or fraudulent use of the Proudies Service or if Proudies has reasonable ground to believe that you are using the Proudies Service in a way that is not in line with the aim of the Proudies Service.
Undesirable use
You understand that while we monitor the use of the Proudies Services by other Members, we cannot guarantee that you may not be exposed to offensive, indecent, or objectionable behaviour by other Members when using the Proudies Service, certainly when the Proudies Service is live. We expect that you understand this and, accordingly, you agree that your use of the Proudies Service is at your own risk. If you do encounter any behaviour that conflicts with these policies, or any other objectionable content, you may contact us at info@proudies.nl
Passwords and Account Access
The person who created the Proudies account (the "Member") is responsible for any activity that occurs through the Proudies account. To maintain control over the account and to prevent anyone from accessing the account, the Member should maintain control over the Proudies Ready Devices that are used to access the service and not reveal the password associated with the account to anyone. You are responsible for updating and maintaining the accuracy of the information you provide to us relating to your account. We can terminate your account or place your account on hold in order to protect you, Proudies or our partners from identity theft or other fraudulent activity.
Disclaimer
While reasonable efforts are used to check and update the Proudies Services, all information and materials are provided "as is" and "as available", and shall not be binding nor shall it be construed as constituting any obligation, representation or warranty on the part of Proudies. Proudies does not guarantee the accuracy, adequacy, completeness, timeliness or fitness for any specific purpose of the information and materials included or referred to in the Proudies Services or the reliability of their sources. In no event shall Proudies be liable for any direct, indirect, incidental, special or consequential damages, damages for loss of profits, revenue, goodwill, use or data, incurred by you or any third party, arising from your access to or use of the Proudies Services.


Injuries
You understand and agrees that the Proudies Service includes physical activity and that you are expected to be in good health to perform workouts offered as part of the Proudies Service. In no event shall Proudies be liable for any injuries, illnesses or any other health consequences incurred by you or any third party arising from your access to or use of the Proudies Services. You understand and agrees that the people offering the Proudies Services are not medical practitioners and cannot offer medical advise.
Links to third party website
Links or pointers to third party websites are provided solely as a convenience to you. Proudies has not reviewed these third party websites, does not control them and is not responsible for any of these websites or their content. If you decide to access any of the third party websites, you do so entirely at your own risk.


Internet connection/bandwidth
The quality of the display of the may vary from device to device, and may be affected by a variety of factors, such as your location, the bandwidth available through and/or speed of your internet connection. The minimum connection speed required to attend a live workout is 8.0 Mbps; however, we recommend a faster connection for improved video quality. You are responsible for all internet access charges. Please check with your Internet provider for information on possible Internet data usage charges. The time it takes to begin watching will vary based on a number of factors, including your location, available bandwidth at the time, the content you have selected and the configuration of your Proudies Ready Device.


Use of content by Proudies
Proudies can record the content created during a Proudies workout and use this content as it sees fit. The use of the recorded content can include (1) quality insurance: Proudies can use data and content created during workouts to evaluate and improve the Proudies Service; (2) marketing: promote the Proudies Service. Proudies can also analyse the use of the Proudies Service by Members through the implementation of analytics tool in the Proudies Service.


Promotional Offers
Proudies might make promotional offers from time to time. Offer eligibility is determined by Proudies at its sole discretion and we reserve the right to revoke an Offer and put your account on hold in the event that we determine you are not eligible. Members of households with an existing or recent Proudies membership may not be eligible for certain introductory Offers. We may use information such as device ID, method of payment or an account email address used with an existing or recent Proudies membership to determine Offer eligibility. The eligibility requirements and other limitations and conditions will be disclosed when you sign-up for the Offer or in other communications made available to you.
Applicable law and competent jurisdiction
The Proudies Services are owned and operated by Proudies B.V.. Your access to, browsing, streaming, downloading and use of the Proudies Services and the present Terms of Use are governed by and shall be construed in accordance with the laws of The Netherlands. You hereby consent to the exclusive jurisdiction of the Amsterdam courts regarding any and all disputes relating thereto.


Contact information
If you have any questions or concerns regarding the Proudies Service or these Terms of Use, please feel free to contact us at info@proudies.nl or at Proudies B.V.
Proudies B.V., Wilhelminakade 573, 3072 AP
Amsterdam Chamber of Commerce, number: 82321094
Proudies is located in: The Netherlands
10% korting
10% korting op al onze cursussen in mei - gebruik de kortingscode

MEI23